This time of year, our thoughts turn to gift giving.  One of the best parts of having your photos  organized  is being able to share and celebrate those special moments, and photo calendars are one of the most appreciated ways to do this.  Because I love old photos and the stories behind them, I like using vintage photos to create one of a kind gifts.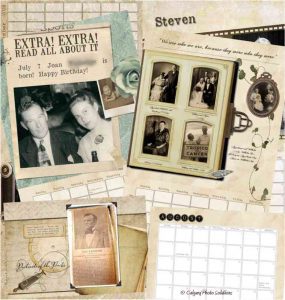 There are many online sites you can use to  create calendars.  I create my calendars in  Forever . They have a variety of styles, and you can create them online, or offline with their software.  Mixbooks is another site that offers a variety of styles to create online calendars.
I wrote a blog for The Association of Personal Photo Organizers last year with some ideas and tips for creating vintage photo calendars.  You can find it here:
http://thephotoorganizers.com/vintage-photo-calendars/
#photosmatterstoriesmattercelebrateyours
This post contains affiliate links.